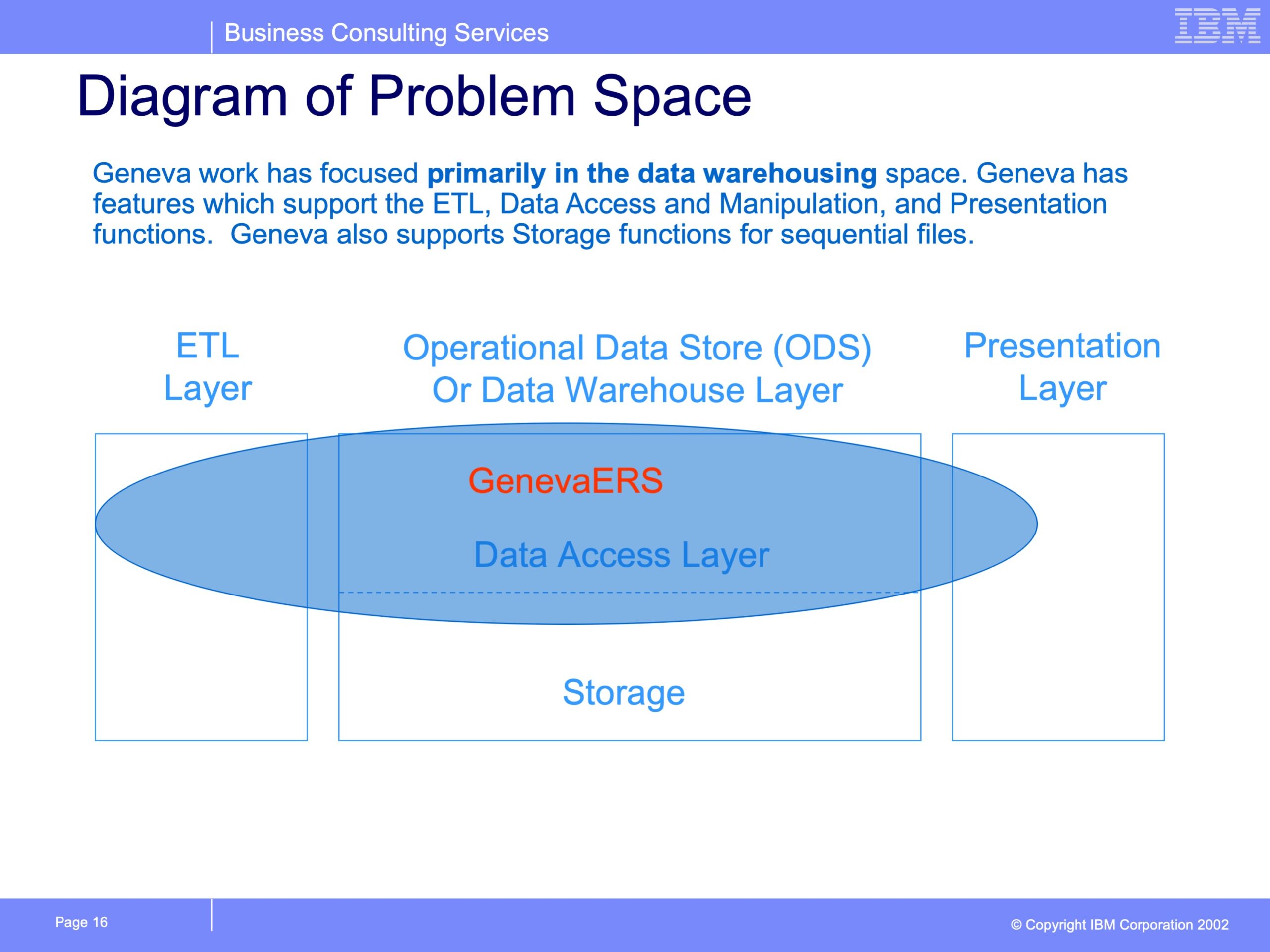 In 2004 IBM considered divestiture of GenevaERS to protect customer applications. This was the resulting memo summarizing operations and the business. More information about this time can be found in Balancing Act: A Practical Approach to Business Event Based Insights, Chapter 56. Walkabout
I EXECUTIVE SUMMARY
General Overview 2
Proposed Transaction 2
Reason for Sale 3
Key Reasons to Invest 3
II BUSINESS / INVESTMENT DESCRIPTION
Key Investment Highlights 5
Product features 6
Current Engagements 6
III TECHNOLOGY
Overview of Geneva 7
GenevaERS Components 8
IV FINANCIAL SUMMARY
2003 Income Statement 10
Revenues 11
Direct Costs 11
Direct SG&A 12
Balance Sheet Items 12
V MARKET OVERVIEW AND HISTORY 14
VI HUMAN RESOURCES 15
VII TRANSACTION SUMMARY
Transaction Description 16
Key Intellectual Property Terms for the Sale of GenevaERS 16
Partnership / Teaming Agreement 18
Appendices
A Examples of Geneva Deployments 19
I EXECUTIVE SUMMARY
General Overview
IBM desires to sell GenevaERS, the GenevaERS maintenance contracts and to give the potential Acquirer the option to solicit key code development employees. GenevaERS was formerly owned by PricewaterhouseCoopers Consulting and is presently a part of IBM Business Consulting Services (IBM BCS).
GenevaERS is a combination of a business intelligence application and a database query engine. It efficiently uses available memory, I/O devices, and computing capacity to resolve multiple business problems in a single pass through a database or data repository. It is a high-performance tool that enables data management and analysis procedures, which are typically impractical with standard tools. It is used in all aspects of the data warehousing process including extraction, transformation, loading, query processing, data mining and reporting.
Proposed Transaction
IBM is seeking to sell GenevaERS assets, as outlined in Section III of this document, and the GenevaERS maintenance contracts to a Buyer who will continue to develop and maintain the tool on all of the existing deployments, including internal IBM installations. GenevaERS assets are to be sold "AS IS" and divested "WHERE IS", subject in all instances to IBM's ability to do so and consents of third parties.
Each potential Buyer will bear all costs associated with its own investigation of the acquisition and consequently with the transition.
In addition, as part of this transaction IBM BCS would consider a non-binding service partnership agreement with the Acquirer for Geneva deployment and marketing, should one be deemed appropriate, to facilitate future deployments of Geneva with adequate integration skills and expertise.
Reason for Sale
IBM has determined that Geneva, which it acquired as part of the PricewaterhouseCoopers Consulting acquisition, does not fit within IBM's long-term strategy.
Because IBM customers have invested heavily on systems using Geneva, and IBM is committed to helping to protect that investment, IBM is seeking an Acquirer who would further develop the software and will maintain existing software deployments. The buyer is expected to specialize in business intelligence and data analytics software and ideally will have the following characteristics:
An acquirer will have significant size and strategic importance;
Ability to leverage the product across a wider client base;
An established software development organization in the Extraction, Transfomation and Loading (ETL) tools market segment which can further the capabilities, quality and flexibility of Geneva;
Ability and commitment to provide maintenance to existing customers for the duration of the contracts or for a period of no less than five years from the date of purchase which ever is greater.
II BUSINESS / INVESTMENT DESCRIPTION
Key Reasons to Invest
Acquisition of a unique and highly regarded set of tools
Geneva is one of few products that meet the growing business demand within a narrow niche for high-volume data analysis / ETL solutions. Its unique architecture allows it to outperform other competitive products. According to customer feedback, almost every Geneva implementation occurred after alternative approaches had been exhausted and alternative tools to solve the problem had failed. In these and other competitive situations, Geneva has demonstrated outstanding performance characteristics every time.
A set of tools that complements other product offerings
Geneva will enable a Buyer to extend the capabilities and the reach of existing products and solutions. Genevasales can be complementary to many existing products, and other tools can be complementary to Geneva. The more generic data tools are more flexible, yet inefficient and clumsy when they have to be used to solve specific problems. Geneva, on the other hand, is a highly specialized tool, which can be leveraged across a client base with massive data analysis processing power needs. Put differently, Geneva can complement a set of flexible generic tools, which have broader applicability but cannot to handle large volumes of data.

Access to several large clients
As part of the transaction IBM intends to transfer all Geneva maintenance contracts to the Acquirer. At present the GenevaERS Consulting Practice provides maintenance support to eight customers. Geneva has developed a loyal client base due to its unique capabilities. Customers have used Geneva on average for six years. A potential Acquirer can cross sell other data analysis products and services to any one of them.
Growing market opportunity
According to a recent report from Gartner the ETL tool market is growing due to the increase of enterprise size and correspondingly the growing importance of data integration in private and public sector organizations. Data volumes in every organization continue to grow, and now even medium-sized organizations routinely experience performance problems. If new marketing channels to distribute Geneva are established, significant opportunities may exist for new customers. In addition, many of the Geneva implementations differ significantly from each other in the type of problem solved. These successful implementations may present market opportunities in related areas.
Understanding of Key High Volume Principles
Geneva's patented process uniquely combines many fundamental principles in solving high volume data integration and analysis problems. Geneva provides access to this knowledge, and many of these principles may be utilized in other tools and implementations.
Potential to solicit select key resources
Access to Geneva key developers is important for the delivery on maintenance contracts and for future enhancements of the software. Therefore, a potential Acquirer will have the opportunity to solicit key code development resources.
Alternatively, the GenevaERS practice can provide training to Acquirer's existing organization and transitional services to existing customers. These arrangements will be a part of a separate set of contractual arrangements.
Key Investment Highlights
The value of Geneva includes:
Financial
Estimated revenue of $1.5M in 2003, of which $0.5 is from recurring maintenance contracts
History of profitability, estimated contribution margin of 42% in 2003
High growth potential
Description of the assets
The assets for sale include the following:
Version 4 source code written, in Visual Basic, C++, COBOL, MVS Assembler, PL/SQL, Java and SAP's ABAP, including the following components

Workbench, allowing entry of Metadata and View Definitions

UNIX and MVS Performance Engines

Java and SAP Executive Information Report Viewers

Version 3 source code, written in COBOL, CICS, and MVS Assembler, including the following components

Metadata and View Definition Screens

Source code for various MVS Assembler and UNIX utilities which enable rapid Geneva API development, testing, debugging, etc.
Version 3 and Version 4 documentation
Marketing materials
Client relationships
GenevaERS has been developed and marketed through consulting engagements. The small customer base reflects a sales approach of solving very difficult problems on typically very expensive consulting engagements lasting anywhere from six months to multiple years. Nonetheless, GenevaERS is at the core of a number of mission-critical processes for these clients, reflecting a sizeable investment in installation, configuration, enhancement and maintenance.
Synergy Opportunities
Cross selling of Geneva and other products and solutions to existing customer base
Leverage Geneva's capabilities across a wider range of clients through aggressive marketing
Use Geneva's mainframe capabilities as a complement to existing ETL offerings
Product Features
The following are characteristics of many Geneva Implementations:
High-Volume data extraction and reporting requirements
Summary data structures are inadequate, requiring table scans
Large amounts of reference information and data reclassification
Batch window constraints or need to improve CPU utilization
Limited development time
Multiple Geneva implementations scan billions of records in tight nightly windows, resolving at times 1000s of queries, hardcopy reports, interface files, or report cubes in a single pass of the data. These processes often involve billions of joins to reference data. In some instances these join processes are date effective, providing query results as of a specific point in time. Implementations of Geneva have deferred hardware upgrades and made possible query processes on a daily rather than monthly basis. By being able to read from source systems, and do multiple tasks with the output in a single multi-purpose tool, systems can be built in a fraction of the time of other tools.
These statistics are not from artificially created benchmarks, but from mission-critical, real-world production systems at some of the most demanding customers with the highest volumes in the world. The tool has been engineered for performance on the specific platforms it runs on rather than ported from another.
Current Engagements
One of the largest integrated electronic circuits manufacturers
One of the largest US food manufacturing companies
A large interstate bank
The Departments of Transportation of two States in Western United States
One of the largest integrated retail chains
Fortune 100 insurance company
The department of finance of a state in Northwest United States.
III TECHNOLOGY
Overview of Geneva
GenevaERS provides information access and delivery capabilities with greater scale and performance than conventional methods. GenevaERS is a software product that addresses Business Intelligence areas including extraction, transformation, loading, query processing, data mining, and reporting. It uses available memory, I/O devices, and computing capacity to resolve multiple business problems simultaneously in a single pass through a database or data repository. Using parallel processing techniques and efficient algorithms, GenevaERS solves high-volume data analysis and reporting problems while maximizing the efficient use of computing resources.
The use of detailed transaction-level data as the backbone of Business Intelligence systems offers almost endless adaptability to changing business demands. However, the effort necessary to effectively utilize these high volumes should not be underestimated. Implementing workarounds that do not leverage the power of detailed transaction data can create larger, more pervasive, and complex problems in the long run. Our experience dictates that scale must be built-in; it cannot be added after the fact. Converting a one-story building to a five-story building is much more expensive than building a five-story building in the beginning. The same is true when working with Business Intelligence systems. GenevaERS applies proven methods and techniques to deal with the high-volume problems and scalability.
Geneva reporting and analysis systems can be divided into three different areas:
1) Data Sourcing or Extraction / Transformation / Loading (ETL),
2) Data Repository, and
3) Presentation Layer.
Typically, separate vendor tools are applied in each area. As indicated in the figure below, GenevaERS crosses these boundaries and has capabilities in each layer. It supports ETL, data access and manipulation, and presentation functions.
GenevaERS provides direct access to data stored in a variety of formats including sequential files, VSAM, DB2. Using Geneva's multiple API points, it has been used to read IDMS, IMS, and many specialized or archaic formats. Similarly, GenevaERS can create several different output formats, including database ready load files, delimited, spreadsheet, columnar formatted hardcopy reports, and Geneva Executive Information cube format. The handling of multiple business functions in a single tool with the added capability of reading and producing different formats allows a user to solve difficult problems in a cost-effective manner.
GenevaERS is more than a combination of a Business Intelligence application and a database query tool. It can be used to build complex application subsystems usually created through custom development. Examples include multi-currency revaluation, billing systems, and cost allocations processes created by our clients.
Many tools have complex operating environments and user interfaces that require prior programming experience in order to utilize them proficiently. GenevaERS has a parameter-driven interface that eliminates the need for custom coding and reduces implementation timeframes. Additionally, the parameter-driven interface permits both non-technical and technical users to utilize the tool effectively. For example, approximately two hundred finance users create GenevaERS Views (i.e., queries) to produce reporting results at a state government client. At a manufacturing client, a handful of IT resources support the data repository and create load-ready data mart files using GenevaERS.
GenevaERS Components
GenevaERS Workbench
The Workbench is a parameter-driven front end that allows users to define metadata (i.e., input record layouts, physical file characteristics, and joins). Building GenevaERS Views or queries is handled by the Workbench through the GenevaERS View Wizard and View Editor. Users specify the input file(s), filtering logic, output layout and format, and processing logic required to meet business needs.

GenevaERS Performance Engine
The Performance Engine includes the programs and scripts required to execute GenevaERS Views. The Performance Engine consists of several steps required to efficiently process and format the input transaction and reference data.
GenevaERS Executive Information Report Viewer:
The GenevaERS Executive Report Viewer is a Java or SAP ABAP enabled application utlizing a high-performance proprietary access method and cube structure. It allows users to begin the process of understanding the results of a query at the high level, and drill down to the relevant details. It enables quickly changing dimensions to understand different points of view, export and download to spreadsheets, with all aspects of the cube produced by the performance engine in a fraction of the time of other tools. The Java component can be utilized as a web service, allowing customers to build their own presentation interface or on-line access of summarized results produced by Geneva.
IV FINANCIAL SUMMARY
Section IV contains 2003 results. The data has been prepared by the GenevaERS Consulting Practice management and it is for reference only as it relies on estimates extracted from the accounts of the practice and allocated to the GenevaERS software. All figures reflect a fiscal year-end of December 31.
Historical data is not audited by an independent auditor and additional details pertaining to historical data will be provided during due-diligence.
2003 Income Statement
In thousands of US Dollars
Geneva income statements[1]
2003
Revenue[2]
Actual
Estimated license sales
1,159
Maintenance & license renewals
558
Total revenue
1,716
Direct costs
Compensation for development
(363)
Subcontractor expenses for development
(296)
Compensation for maintenance
(50)
Subcontractor expenses for maintenance
(52)
Benefits[3]
(126)
Other direct expenses
(37)
Total direct costs
(924)
Gross profit
792
GP margin
46%
Direct SG&A[4]
(21)
E/R
1%
Contribution
771
Contribution margin
45%
Revenues
Geneva has traditionally been sold as a part of a service offering and thus service revenues were not separated from the license revenues. For the purposes of this confidential information memorandum the management of the GenevaERS practice has estimated the implied license revenues by taking a percentage of total services revenue that was considered attributable to GenevaERS Intellectual Property or product development. To determine the percentage of implied license revenue, client engagements were analyzed and the appropriate ratios derived.
Although IBM recently completed the latest version of the software to fulfill preexisting contract commitments to a specific client, it has chosen to stabilize the product, as at present it is not viewed as strategic. As a result, the revenues have grown marginally over the past few years. The potential acquisition of the Geneva software by a strategic buyer committed to Geneva's continued enhancement can have a significant positive impact on the forecasted revenues. It is the understanding of Geneva management that customers are reluctant to commit a large investment to an infrastructure, which has continuously been viewed as an auxiliary tool of consulting services.
Direct Costs
The direct costs are costs associated with the ongoing development and upgrade of Geneva. They include total compensation for code development, code maintenance and subcontractor expenses. All of the development and maintenance costs are expensed. Note that direct costs do not include general allocations.
Compensation
Compensation is separated into development and maintenance components. The breakout for development and maintenance costs was determined by estimating time spent by specific resources on development, maintenance and consulting related tasks for the year. Development compensation includes the percentage of total compensation related to software development activities. Maintenance compensation is the percentage of total compensation associated with software maintenance activities. No bonuses or commissions have been paid historically.
Subcontractor Expenses
Similar to compensation, subcontractor expenses are separated into development, and maintenance components. Development and maintenance of the software has involved key individual subcontractors. Two of these subcontractors have been involved in the tool from its inception, and a third for over five years.
Other Expenses include royalty payments to one of these subcontractors. In 1995 he agreed to exchange his intellectual property rights to Geneva for royalty payments on software license sales and services related to Geneva. Under the arrangement he is entitled to four and one-half percent of the first annual $15 million of license revenues and to one and a half percent of the first annual $10 million of Geneva related services revenues. These arrangements will expire when Geneva's ownership changes.
Hardware costs related to hosting the GenevaERS software development and maintenance infrastructure may be incurred by the Acquirer.
Direct SG&A
Direct SG&A includes only marketing expenses attributable to the GenevaERS software, net of overhead allocations.
Balance Sheet Items
Geneva development costs were not capitalized, but expensed in each year as they arose. This was a result of the arrangements that the Geneva Practice had with customers who were billed against these expenses.
The prepaid maintenance of the contracts is estimated to amount to approximately $245,000 at the transaction closing date. The exact closing date may impact this amount.
All other assets or liabilities that will be transferred to a potential Acquirer are immaterial.
V MARKET OVERVIEW AND HISTORY
PwC consultants developed Geneva through numerous engagements, beginning in the mid 80's. In 1993, Price Waterhouse began selling it as a commercial package. For many reasons Geneva did not become a larger commercial success icluding:
Geneva came to market just as the press was proclaiming the death of the mainframe, and Price Waterhouse's revenue was driven by selling primarily non-mainframe solutions.
Geneva never enjoyed a dedicated sales force. Sales occurred as a result of informal referrals and at times consultants were reluctant to lose the appearance of being impartial by recommending a tool owned by their company, and not widely known in the trade press or by analysts.
Until the latest version was completed six months ago, Geneva had a character based user interface that was not appealing to end users.
PW did not have a software brand. Customers where reluctant to purchase software from auditors and consultants.
Sales were driven either by niche sales, or when the largest companies ran into problems that simply were too expensive to be solved by any other way if one was even possible.
Over time, the implementations of Geneva began to involve a Geneva "rapid response" of consultants who were very familiar with the tool, and would implement it in abbreviated time frames, at times under extremely high pressure to save a project or client relationship.
Given only a limited investment budget but having the ambition to tackle a very large set of problems, the Geneva team consistently strove to create a true software package. It created automated installation processes, maintained on-line access to customers, and provided customized training and on-site technical support. The team even manned a 24-hour help desk with consultants who would at times work with clients through the day and answer problems calls at night. They were able to periodically charge license fees ranging from $250,000 to $400,000 per "named application," and in one case selling a million dollar site license.
However, because Geneva was embedded in a consulting organization, quite often Geneva was offered as a loss leader on proposals to obtain the consulting work. Routine maintenance was funded by the annual maintenance contracts. However, new development was primarily funded though specific engagements where a specific enhancement was required.
Due to the complexities of the projects and the required enhancements, what began as primarily a mainframe reporting tool has become an attractive combination of a tool capable of significant ETL processes with certain reporting capabilities. Working with the premier PwC client base of the largest organizations in the world kept the tool focused on performance.
The result is a tool:
That has developed outside the constraints and "conventional wisdom" of traditional software tools;
That cuts across traditional software categories;
Has innovative features developed at times for one client in response to real-world problems, and
Performs at the highest levels.
The average Geneva client has used the tool for approximately six years despite continued efforts by other companies to persuade clients to implement more 'mainstream' ETL products. For example, one client has expended a significant amount of resources over four years to implement a Teradata solution, and the implementation is still more than two years away to replace a Geneva solution which was implemented in about 18 months.
PricewaterhouseCoopers made limited attempts to market Geneva. Because of auditor independence requirements, this dictated a very narrow set of potential buyers: Only companies which were not audited by PwC or substantially owned by someone audited by PwC. Thus the potential customer base appeared to be largely constricted by requirements unrelated to Geneva.
IBM acquisition of PwC Consulting eliminated these restrictions. However, Geneva does not fit with IBM's strategic data management software direction of focusing on the database, and raises problems of database independence for an ETL tool. Besides, the continuing residence within the consulting practice does not eliminate many of the marketing issues Geneva has had for many years, and raises doubts with customers about the viability of the product.
With the completion of the latest version, including late stage beta testing by the largest customer, the software is substantially ready for the market. Preliminary marketing efforts have been favorable. With the appropriate marketing, possible integration with established tools and the assurance of long-term support, Geneva is likely to have significant potential in the coming years.
VI HUMAN RESOURCES
As part of this transaction, the GenevaERS Consulting practice, is offering the option to potential Acquirers to solicit select key development staff in order to facilitate the uninterrupted service on existing maintenance contracts.
To date Geneva has been developed and implemented by a team of consultants. Thus, most of GenevaERS staff are flexible and have significant customer interaction experience.
The select key development personnel have extensive code development experience in algorithmic and machine-level computer languages. They have been at the heart of development efforts and are intimately familiar with Geneva, its structure, modules and algorithms. All of them have at least 10 years of software development and consulting experience.
VII TRANSACTION SUMMARY
Transaction Description
IBM BCS would like to divest the GenevaERS software assets to an Acquirer with strong development capabilities in business intelligence and data analytics tools who will continue to develop, enhance and maintain Geneva. The Acquirer is expected to specialize in business intelligence and data analytics software and ideally will have the following characteristics:
An acquirer will have significant size and strategic importance;
Ability to leverage the product across a wider client base;
An established software development organization in the Extraction, Transfomation and Loading (ETL) tools market segment which can further the capabilities, quality and flexibility of Geneva;
Ability and commitment to provide maintenance to existing customers for the duration of the contracts
The assets to be divested include:
Version 4 source code
Version 3 source code
Source code for various MVS Assembler utilities which enable rapid Geneva API development
Version 3 and Version 4 documentation
Marketing materials
Eight maintenance contracts with high-powered customers
An option to solicit select key employees
Key Intellectual Property Terms for the Sale of GenevaERS
The purpose of this outline is to summarize key intellectual property terms under which IBM proposes to sell certain assets related to GenevaERS. This outline is meant to serve as a general framework. Further discussions may alter the terms outlined below or add new terms prior to execution of definitive agreements.
1. Sale of Software and Documentation.
Subject to certain preexisting obligations, IBM will assign to Buyer its rights, title and interest in the copyrights to the source code, object code, and related documentation of the GenevaERS product (collectively referred to as "GenevaERS" or "Geneva").
2. Reservation of Rights
IBM will retain the right to use code fragments of GenevaERS, where code fragments are defined to be not more than 30% of the total lines of GenevaERS code, to support IBM's products and services. IBM will retain the right to use GenevaERS for existing internal GenevaERS installations and for fullfilling any existing contractual obligations.
3. Product Name
Subject to any preexisting rights which may exist with third parties, IBM will quitclaim any rights it may have in the GenevaERS name to Buyer.
4. Conditions on Sale.
GenevaERS will be assigned "AS IS", "WHERE-IS" without warranty, including, without limitation, any implied or express warranty of fitness for a particular purpose or of non-infringement of third party intellectual property rights. IBM will not provide support for GenevaERS.
5. Dependencies.
The Buyer will be responsible for obtaining any other software and licenses upon which GenevaERS depends from the applicable vendors.
6. Governing Law.
The agreements contemplated hereby will be governed by the substantive laws of New York State, without regard for its conflict of laws provisions.
7. Freedom of Action.
Any definitive agreement shall provide that, subject to the other party's intellectual property rights, there are no restrictions on either party's ability to (i) provide any goods, services, or intellectual property to any other entity or (ii) form any alliances or take an equity or other interest in any other entity.
8. Indemnification.
The Buyer will defend, indemnify and hold harmless IBM, its subsidiaries, and its and their directors, officers, agents, employees and representatives from any claims, causes of action, and expenses, including reasonable attorneys' fees, arising out of or related to the Buyer's use of GenevaERS.
9. Exclusion of Damages.
Neither party shall be responsible for any indirect, special, punitive or consequential damages, whatsoever, including loss of profits or goodwill, in connection with any aspect of this transaction.
10. Publicity.
Any press releases, announcements or other forms of publicity concerning the transaction contemplated hereby will be coordinated and approved in writing by both IBM and the Buyer.
11. Payment.
The Buyer will pay IBM a one-time fee at agreement execution in consideration for GenevaERS.
Partnership / Teaming Agreement
In addition to the outlined terms, as part of this transaction IBM BCS would consider a non-binding service partnership agreement with the Acquirer for GenevaERS deployment and marketing, should one be deemed appropriate, to facilitate future deployments of Geneva with adequate integration skills and expertise.
Appendices
Geneva Enables All Phases of Data Warehousing from
[The document then contains samples of citations listed in other documents.]
---
[1] Historical data prior to IBM's acquisition of PWCC was prepared under different internal accounting standards and thus represents a neither comparable nor meaningful data reference. Furthermore, in 2002 the GenevaERS practice was engaged primarily on PWCC internal projects.
[2] The estimated license revenue line includes revenues from internal engagements, approximately 28%. On internal engagements, the GenevaERS practice was reimbursed at cost.
[3] Neither bonuses nor commissions have been paid historically.
[4] Direct SG&A does not include overhead allocations.