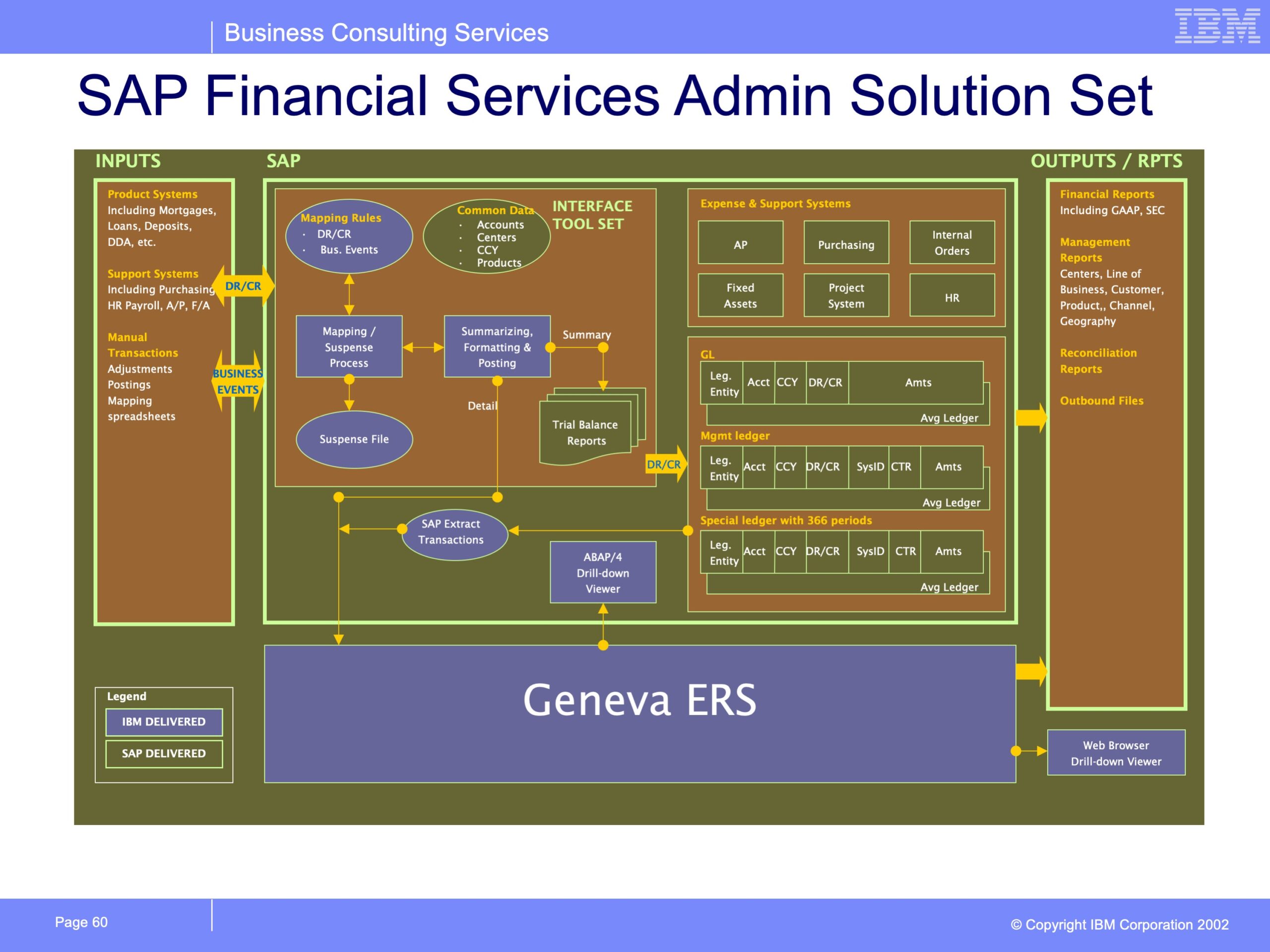 [An investment bank arm], a division of [a major Swiss bank], chose Geneva ERS to manage its Detail Repository, a central component of the Global General Ledger SAP implementation. This repository provides trade-level detail analysis to for internal and external global reporting. [Bank] management has referred to the global general ledger as "a cornerstone of [the bank]'s strategy and its successful realization globally is vital to all future plans."
Approximately 1.3 million detailed transaction data records from twenty-two different feeder systems are loaded into the Detail Repository nightly. These transactions are trade level detail records from Europe, Asia Pacific, and North America. Geneva ERS scans the repositories' 51 million records in 22 entities and 269 physical partitions. It extracts 20 million records that are aggregated into approximately 480,000 summary balances. These summary records are sent to SAP for balance sheet and summary profit and loss reporting. This process runs in approximately 3 hours of elapsed time and 5 and ½ hours of CPU time and produces 30 different outputs.
A second Detail Repository process uses Geneva ERS and custom programs to satisfy the intricate regulatory requirements. This system consists of 65 Geneva "Views" or programs, 4 custom programs, and 5 PERL scripts. Geneva is executed 19 times with each execution handling a subset of the core business requirements. During this nightly process Geneva reads 71 million records in 40 gigabytes, extract 59 million records in 30 gigabytes, and performs 229 million table joins. The output is created in 12 CPU hours and 8 wall clock hours. In comparison, legacy applications required 24 hours to complete a limited number of these processes.
Outputs from these processes are used for US tax and regulatory, Asia specific regulatory management, and Swiss regulatory reporting. They include information on:
Capital Allocations
Average Balancing and Multi-Currency Revaluation
Syndicated Loan Netting
Federal and Swiss Regulatory Collateral Allocation
Residual Maturity
Interest Rate Selection
Product Risk Weighting
Specific Reserve Allocation
Unutilized Facility Calculation.
The view outputs include files used in additional processing or to feed other systems, delimited files, tabular reports, and inputs to a sophisticated executive information system. The executive information system allows users to select which report to view and for what period. The user is presented with the highest level summaries. The user can then drill down into specific areas of interest, select ranges of data, sort columns, view other dimensions of the same data, graph the data, and export to spreadsheets. The executive information system is accessed by as many as 50 users throughout the world.
The Geneva Views are maintained in Sybase tables accessed by Geneva ERS Visual Basic ViewBuilder front-end.  The software maintains various types of metadata including record layouts, field types, join relationships between record structures, logical and physical file partition information, as well as the actual query selection, summarization, and formatting logic.  The business logic contained within the views ranges from simple transform logic to the sophisticated globally defined business rules that make up the global general ledger accounting model.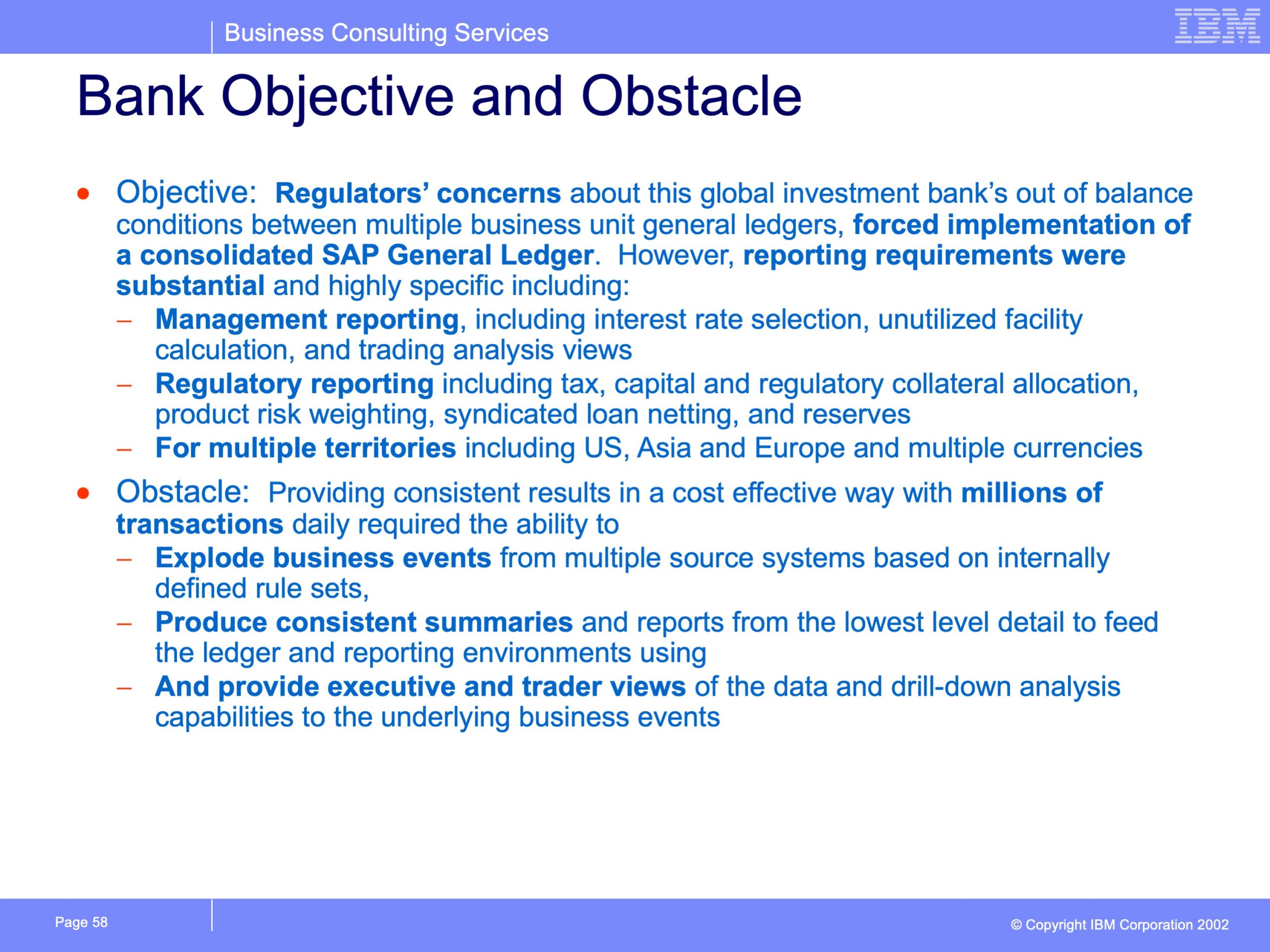 More about this time can be read in Balancing Act: A Practical Approach to Business Event Based Insights, Chapter 20. Parallelism and Platform.